2022
We are all praying that Covid will pass. We have a great calendar of events including a number of National Championships. I am 1st year Under 14s, which means I'll have a hard time getting top 3. We will see how this all pans out, but hopefully we can make a few more race wins. Races start in a few months time, so watch this space.
2021
2021 was a year when most road races were either cancelled or as a family we didn't go due to Covid isolation and government rules. I had a small number of road races, three,  in the end. There was Hillingdon near London which was a National Youth Series Race that I won. Then there was the Regional Road Race Championship in Colchester. I lapped the field, even though I tried not to. The lapped group then chased from their 11mph to 25mph to sit on my wheel, which is against the rules, but didn't cause any problems other than the commissaires worrying about it. I spent that race trying not to go to hard because the next day I had another National Youth Series race at Oliver's Mount in Scarborough that has a 25% hill that goes on for about 5 minutes. I didn't do so well. Firstly I was still recovering from the previous days race, then I had the wrong gears (as did a few people), I started at the back and lastly I am not the lightest person in the race. I will know next time what the course is like.
In between we had 6 Lotus Series road races. After the first race, I was allowed to ride up a category and ride in the U14/U16 race. It was a stretch. I hung in for a few laps and had to chase gaps. I rode with my team mate Edith. Together we mixed it up a bit and had a lot of fun. In the last race Edith, another team mate Jamie rode a 3-up and nearly made up a few places. We missed out by few seconds, but it was exciting racing. I was U12 Lotus champion for 2021. The whole team excelled and it was great to see.
2020
2019
What a year, where to start… So many things happened in a few months. We had a training and race total limit of 2 hours a week, so dad was keen we made the most of the 2hrs.  We did work outs with Oscar on Tuesday evenings and loads f tests to understand if I was close to where I needed to be to have a strong season. I was above the line, whatever that means every session, so that was good. Focus was on the Isle of Man National Youth Series 3 day event in early May. When things go wel, there's sometimes a bit of a moment that turns things upside down. In 2018 it was antibiotics for a chest infection causing me problems, but this year was a bit different…
Race 1: March Hare Classic 2019
I had a strong race with no drama and won quite easily. It was a very windy race and my team mate got blown over in 50 plus mph winds.
Race 2: My birthday race
This was supposed to be a fun day out, but I was ridden into with quite a bit of aggression in the first 100 metres. The other girl said sorry, and I got back on the circuit, but she did it again. One of those things I guess. The second impact was very forceful and I fractured my arm. pics below…
The weeks after the crash saw no real training or movement. At the end of the 2nd week dad set-up a rig and hatched a plan to get me to the Isle of Man in a condition to race, but with no expectation of winning.
2019 Cyclocross
Mildenhall non-League 9-11 year olds:: Abbey (9yrs old) came second to an 11 year old.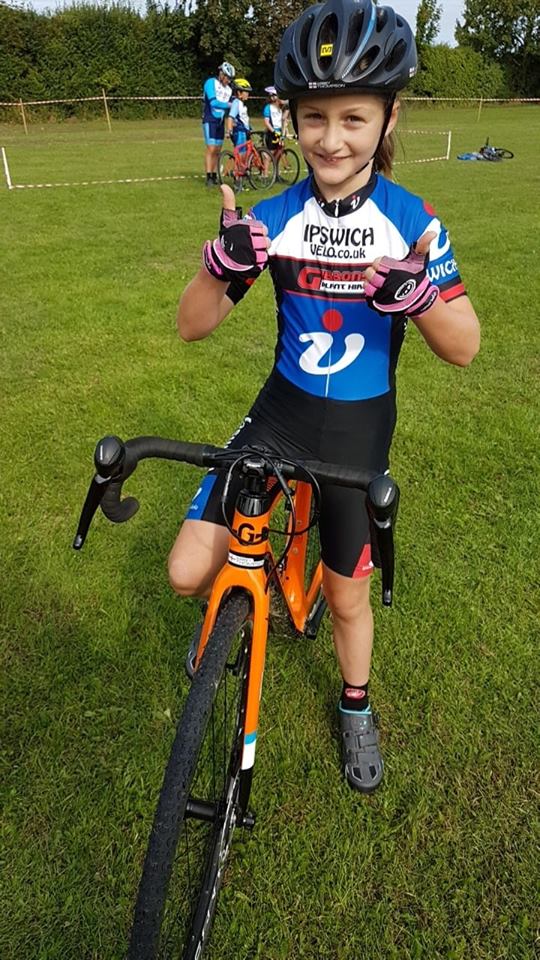 Photos from the Past Few Years